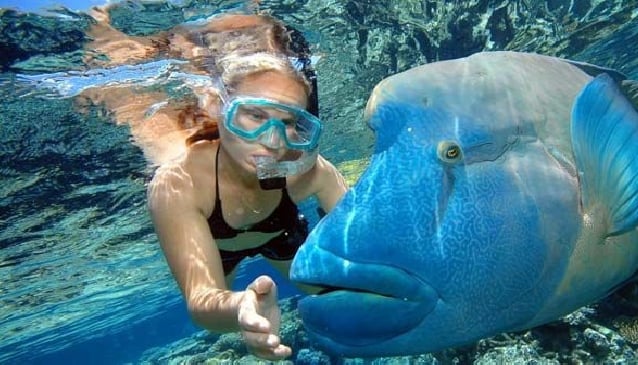 The Great Barrier Reef
Adventure
The reef creeps closest to mainland Australia from Cooktown, making Cairns an ideal spot...
Experiencing The Great Barrier Reef is not only one of the best things to do in Cairns, but the entire planet. Stretching from the Torres Strait for 1,500km down the coast of North Queensland, the reef is the largest living organism in the world and the only one that can be seen from space. It is a frail ecology, made up of tiny marine polyps, which are very sensitive to changes in the environment, and which some scientists say could be extinct in a matter of a few decades, given the current rate of CO2 absorption into the sea through global pollution and climate change. Some 80% of the living organisms on the reef are unique to this region and are not found anywhere else in the world.
The reef creeps closest to mainland Australia from Cooktown to Mission Beach, and it is about half way between these two settlements that Cairns sits, making it an ideal spot to base yourself. Being only 50km out, countless tours operate from Cairns that offer day and overnight trips. The main activity enjoyed is on the Great Barrier Reef is snorkeling, or for the more adventurous, diving (at a little extra cost).
The best way of seeing the reef is by scuba diving. Don't worry if you've never done it before: Cairns diving guides are very highly trained and qualified, and the equipment is thoroughly tested and certified to the highest standards. They will give you a quick lesson before you go under to ensure that you won't panic and have sufficient proficiency for the very easy trip ahead. Once you have gotten over the initial reaction to having your head totally submerged with only a mouth-piece to breath from, it is an effortless way to see, and get close to, all the wonders of the marine life. Fully qualified rescue divers will be accompanying your guides to eliminate any possible problems. The Barrier Reef offers some of the best diving in the world and for beginners it won't be long before you forget that you "can't dive" and simply relax and enjoy the tropical fish and sea anemones before your eyes.
But what about the predators? Well, the sharks are too well fed to be bothered (it's regarded as lucky if you even spot one), you are protected from the jelly fish by your suit and the dive is too far out for crocodiles. So go ahead – have a great day. Oh, and the water temperature? Well, due to the glorious year round weather in Cairns, it sits at a thoroughly agreeable 24 – 27 degrees Celsius.
All pictures on this page have been kindly supplied by Reef Magic Tours – one of the major reef tour operators out of Cairns.